CJAM - Building Michigan Talent
The Construction Jobs Academy of Michigan (CJAM) was established to help develop, train, and place Michiganders in the construction industry. The program is available to anyone over the age of 18, providing a 16-week construction immersion course designed to teach basic skills in concrete, concrete testing, carpentry, and electrical. Students enrolled in CJAM will be taught critical aspects of the construction industry in a classroom and field setting, preparing them for entry-level positions in a wide range of construction jobs. Michigan is at an unprecedented time in its history, needing a workforce to help modernize, upgrade and build new structures, bridges, and roads. Investments are being made to upgrade the infrastructure through state and federal funds. Companies are investing in new buildings and facilities as well as renovations of existing facilities. Home construction is operating at break-neck speeds.
This is YOUR opportunity to begin a career path that has high pay, great benefits, and job security. Don't accept low pay with little benefits.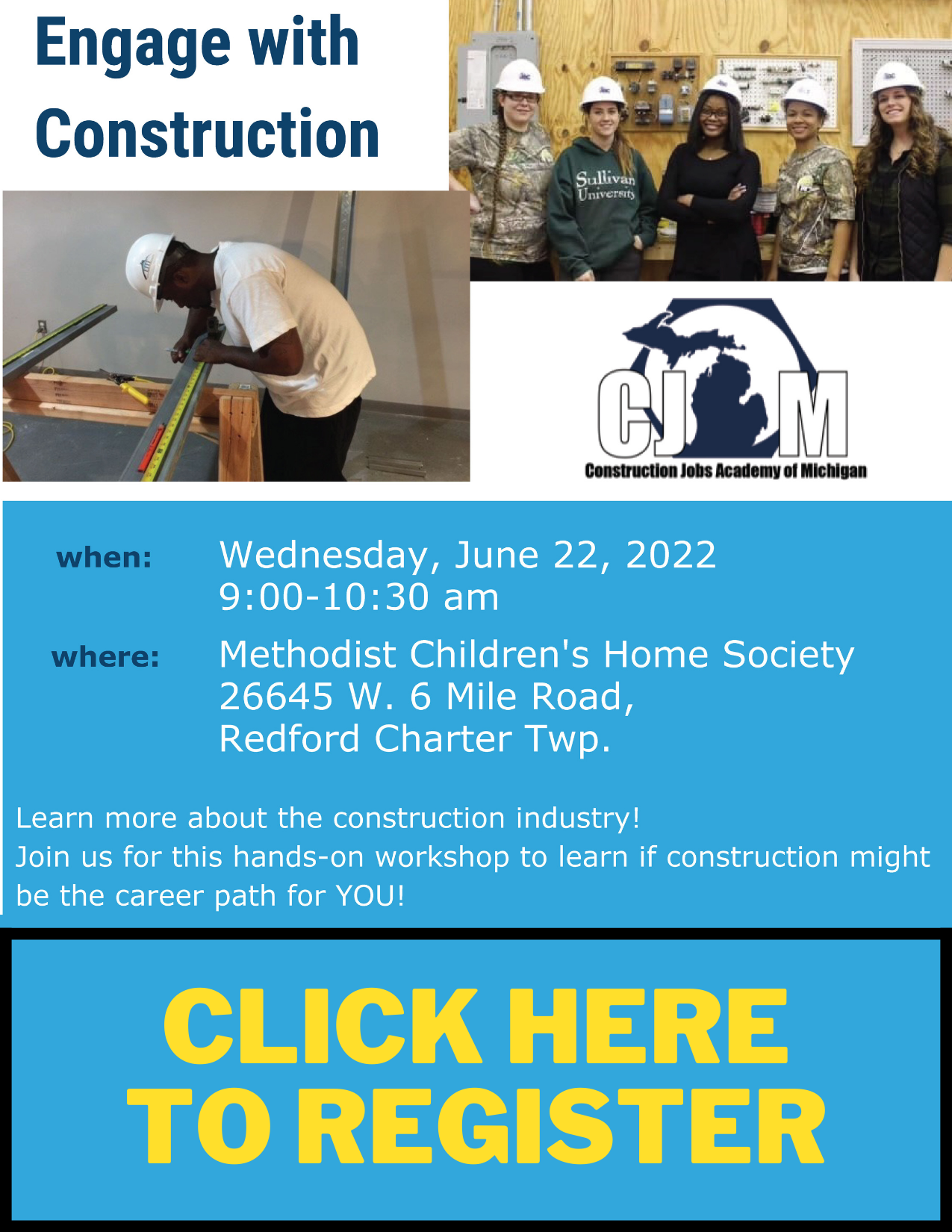 Don't miss out on this amazing opportunity
Earn now! Apply now!
Fill out the form on this page to apply today!
Partnerships
CJAM is made possible by the partnership of construction industry associations, employment agencies, grant organizations, and construction companies that work together to create an inspirational learning environment for a cohort of students from across the state of Michigan.
This program is open to anyone over the age of 18 and the program is free for those accepted into CJAM.
Credentials/Training Earned
OSHA 30
Level 1 NCCER credentials in

Concrete/Concrete Testing
Carpentry
Electric

Classroom Training
Job-Site visits
Community Project
What is a Career in Construction?
You will learn the basic principles from leading companies and trainers in the state, opening up potential jobs with participating companies. Construction is extremely diverse, offering jobs in residential, commercial, industrial, and infrastructure. Each offers a wide range of jobs that can fit most anyone's interest.
Are you ready to make a change in your career?
Are you ready to join an amazing team, working side by side with talented, knowledgeable mentors? This is your opportunity to take the first step towards a new and exciting career in construction! If you are wondering what a career in Construction is all about, check out the video below!
Don't miss out on this amazing opportunity
Earn now! Apply now!
Fill out the form on this page to apply today!