Construction Job Subsectors
---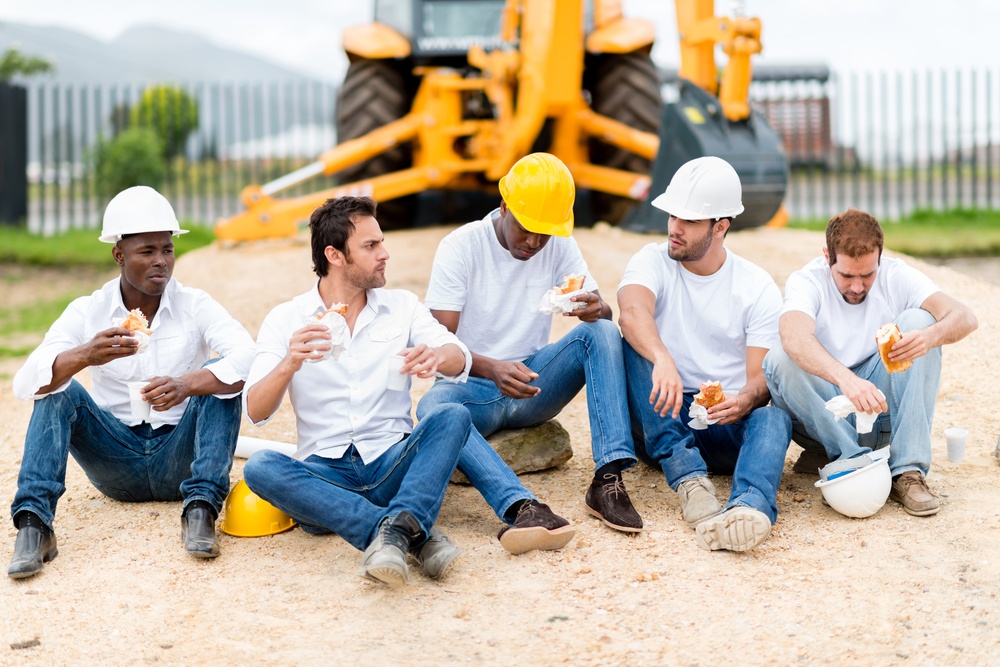 When you're considering a construction career, a good place to begin learning about the options and opportunities is by looking at the four main subsectors:
Residential
The largest subsector at 40 percent of total construction spending, residential construction offers many jobs options and chances for hardworking people to really hone their skills on the job. This subsector covers building, renovating and repairing single and multi-family homes and buildings. It has never ending possibilities. Job opportunities range from heavy equipment operator, to concrete specialists, to framers, roofers, electricians, plumbers, and finish carpenters, to name a just a few.
Commercial
The second largest subsector at 33 percent of total construction spending, commercial construction includes the building, renovating and remodeling of the millions of buildings used for retail stores, business offices, healthcare facilities, schools, and churches. Commercial construction incorporates more civil design workers like professional engineers, as well as surveyors and inspection and testing technicians, and skilled tradespersons similar to those in residential construction but in greater number. Many commercial construction projects also include large asphalt or concrete parking lots that require the expertise of specially trained workers.
Infrastructure
In third place at 17 percent of total construction spending, infrastructure involves the designing and building of public projects such as roads, bridges, water, sewer, etc. Due to the lack of state and federal spending in this subsector over the past decade, there is a backlog of work to be done, especially in the repair and renovation of these fundamentally essential facilities and service lines, some of which were built a century ago. In fact, the American Society of Civil Engineers (ASCE) gave the nation's infrastructure a D+ (and the same grade for Michigan's infrastructure) in its annual Infrastructure Report Card. And, the Report Card notes, "the 21st Century Infrastructure Commission determined an additional $4 billion annually is needed to maintain our infrastructure."
What that means for those considering a career in infrastructure construction is clear: it's going to be a very long time (if ever) before we run out of jobs in this subsector. In fact, the need for workers in this subsector and others has never been greater. That's job security!
Industrial
At 10 percent of total construction spending, industrial construction is the design and building of large, complex facilities like power plants, manufacturing plants, etc. Due to the sheer magnitude of these projects, the number of workers is great and may include trades like steelworkers and boilermakers as well as construction engineers and managers. Some of the facilities like power plants are also included in the ASCE's D+ grade and workers will be needed for years to keep Michigan's industrial engine up and running. Find out more about Michigan construction jobs by subsector in our blog: Comparing Construction Industry Sectors.
Construction Jobs by Location
---
Michigan is cool and a great place to live, work and play, so consider these facts about our great state when deciding to build your construction career in Michigan.
According to the Michigan Historical Society, no matter where you are in the state, you're within about six miles of an inland lake and no more than 85 miles from one of the Great Lakes.
Since the end of the Great Recession, Michigan has been on the grow, and now the demand for construction has outpaced the supply of workers. In short, Michigan has construction jobs ready and waiting for you
Michigan's Upper Peninsula is a rugged paradise and home to the Porcupine Mountains; Lake Superior, the largest freshwater lake by surface area on the planet; Sault Ste. Marie, the first European settlement in the Midwest (and 350 years old in 2018!); beautiful wild places for summer camping and outdoor recreation; and tons of wintertime fun.
Michigan Governor Snyder has mobilized the Department of Talent & Economic Development to let everyone know you can succeed and be well paid in construction, even without a college degree.
Michigan has the world's longest freshwater shoreline in the U.S. and only to Alaska has a longer shoreline overall.
The world's first mile of concrete pavement was placed in Detroit, Michigan on Woodward Avenue in 1909.
Every year, Michigan hosts hundreds of fairs and festivals for everything from yummy morel mushrooms in Boyne City, to the world-renowned Cherry Festival in Traverse City, to magic in Colon, and county fairs across the state honoring our agricultural heritage. Pure Michigan has it all!
According to the Michigan Department of Transportation, Michigan has 122,115 miles of public roads ranking 10th.
Construction isn't the only craft that's big in Michigan. We now rank 5th in the nation for the number of craft breweries, microbreweries and brewpubs.
Need more convincing?
Construction Job Descriptions
---
The U.S. Bureau of Labor Statistics (BLS) defines construction and extraction jobs to help keep track of how many people are in that job, how many are needed, how much that job is going to grow contract over time and how the entire category is going to fare over a 10-year period. The BLS also provides descriptions of each occupation, which can come in real handy when trying to choose a trade. Take a look at six of the fastest growing construction occupations defined by the BLS that DO NOT require a college education:
1) Plumbers, pipefitters, and steamfitters install and repair pipes that carry liquids or gases to, from, and within businesses, homes, and factories. Growing at 16 percent, much faster than average, this occupation is expected to add 75,200 jobs by 2026.
2) Ironworkers install structural and reinforcing iron and steel to form and support buildings, bridges and roads. Growing at the faster-than average rate of 13 percent, an additional 11,400 jobs will be added by 2026.
3) Construction laborers and helpers perform many tasks that require physical labor on construction sites. This occupation is expanding at 12 percent, faster than average and is expected to expand by 180,500 jobs through 2026.
4) Construction equipment operators drive, maneuver or control the heavy machinery used to construct roads, bridges, buildings and other structures. Nationwide the occupation is expanding at 12 percent, faster than average, and by 2026 the industry expects to add an additional 52,700 jobs.
5) Elevator installers and repairers install, fix and maintain elevators, escalators, moving walkways, and other lifts. In the U.S., the field is expanding by 12 percent, faster than average, and an additional 2,700 jobs will be added by 2016.
6) Masonry workers, also known as masons, use bricks, concrete blocks, concrete, and natural and manmade stones to build walls, walkways, fences, and other masonry structures. This occupation is expanding at 12 percent, faster than average, and is expected to grow by 34,200 jobs from 2016 to 2026.
Keep in mind, as the current workforce ages most construction jobs will need new, dedicated and competent workers in the next few decades. Overall, the BLS sees the category growing by about 11 percent, which means another 747,600 jobs will be added. Want to learn more about all job and career opportunities in the construction realm? Our blog, "Construction's Occupational Categories" has even more information.
You might not believe it, but construction is a sexy field of work and we're showcasing just how sexy it really is every single week! Every week we post a new look at one of our partner companies and a great, "sexy" position they have open. You'll get a detailed summary of the job, qualifications needed, application requirements and an overview of the company, its history and its specialties.
Don't wait to find the job of a lifetime, check out our Michigan Construction Sexiest Job of the Week blog and while you're there, sign up for job updates so you can keep your job search current. Click the graphic below to see current job openings.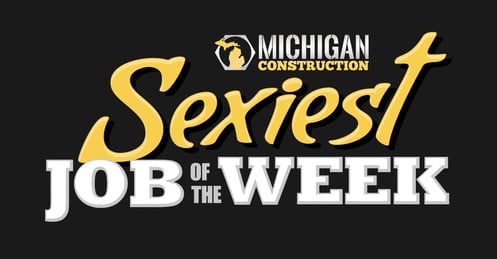 Some kids want to play doctor, others grow up worshipping firefighters, but all you ever wanted to do was work in construction. You're the kid who built sandcastles with double-thick walls and used plastic bags to line your mote so the water wouldn't run out so fast. You are still awestruck at the sight of a crane and marvel at how buildings can rise to the heavens. It's in your blood and it's time to get your feet wet and start looking at the facts. A recent report by the Associated General Contractors of America (AGC) tells you what you can expect within the next year in the areas of construction jobs training, benefits and pay.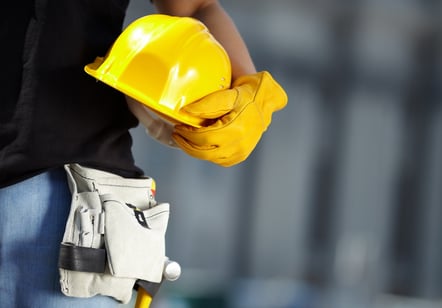 The report, titled "Expecting Growth to Continue: The 2018 Construction Hiring and Business Outlook," is a survey of many aspects of construction and what construction industry firms plan and anticipate for 2018. Here are some of the top takeaways that are further explored in our blog "Increased Training, Benefits & Pay for Michigan Construction Workers in 2018."
One happy survey finding is that employers expected growth in construction to continue, however, the lack of enough workers was cited often as a huge problem that needs immediate attention. Despite this shortage, a majority of firms reported plans to increase hiring during the year. Bottom line: Too few willing workers plus a need for more workers now equals better pay, benefits and more on-the job training for unskilled workers who can do the job. So even if you are unskilled, the industry wants to talk to you. Check it out today!
Construction Jobs in Michigan
---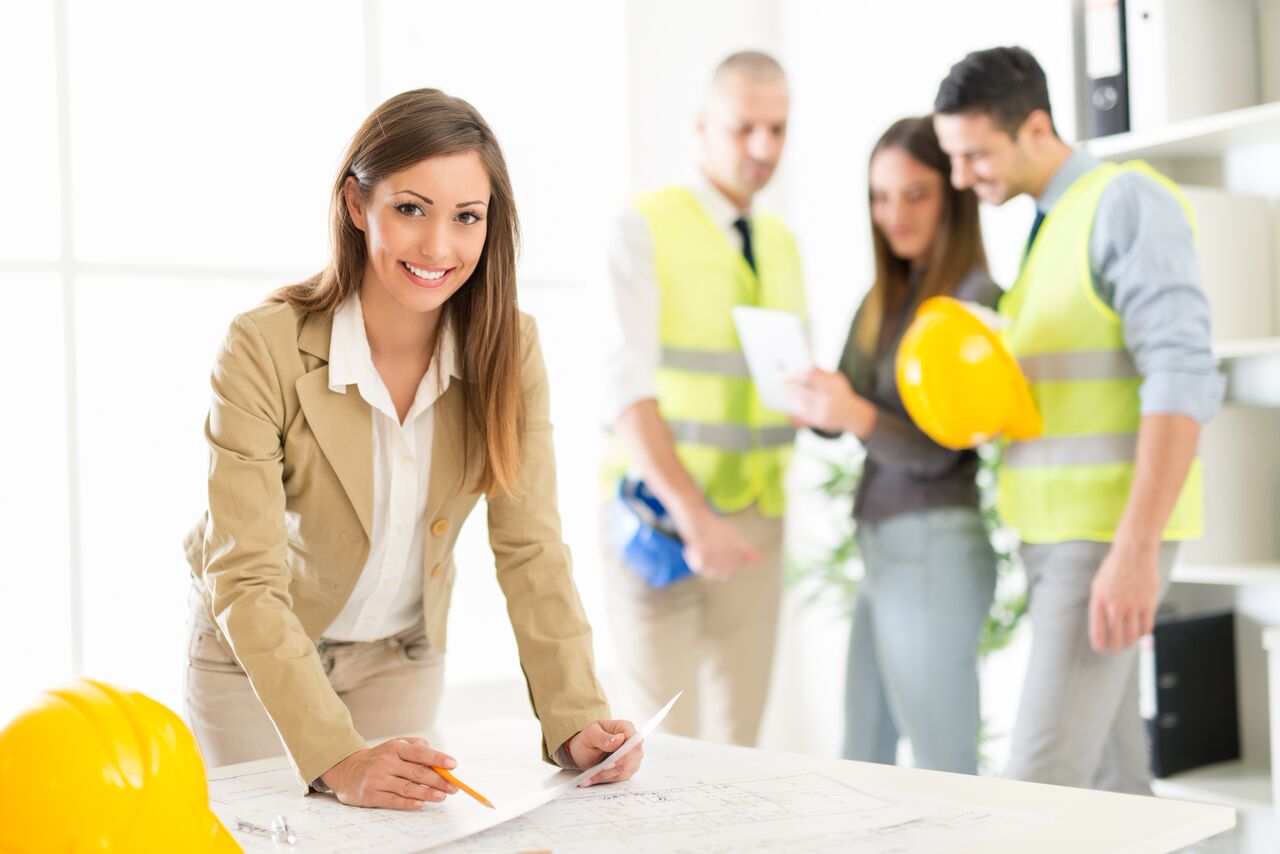 When you make that big decision and choose a career path, you want to get going, right? Well there are few industries like construction where you can actually get a good-paying job right out of high school (or with your GED in hand) and start learning on the job or through an apprenticeship on day one.
But there are some best practices you should consider when job searching to make sure you get the best possible position in the type of work you want to do. If you are truly planning on learning a trade and making that trade a career in which you excel, you will want to pay attention to the steps described in our blog, "The Three Best Ways to Find Construction Jobs in Michigan."
The information will help you understand different training options to provide the skills you need, introduce you to Michigan Construction's full menu of employment assistance options and tell you a little bit about how it works here in the "mitten" state.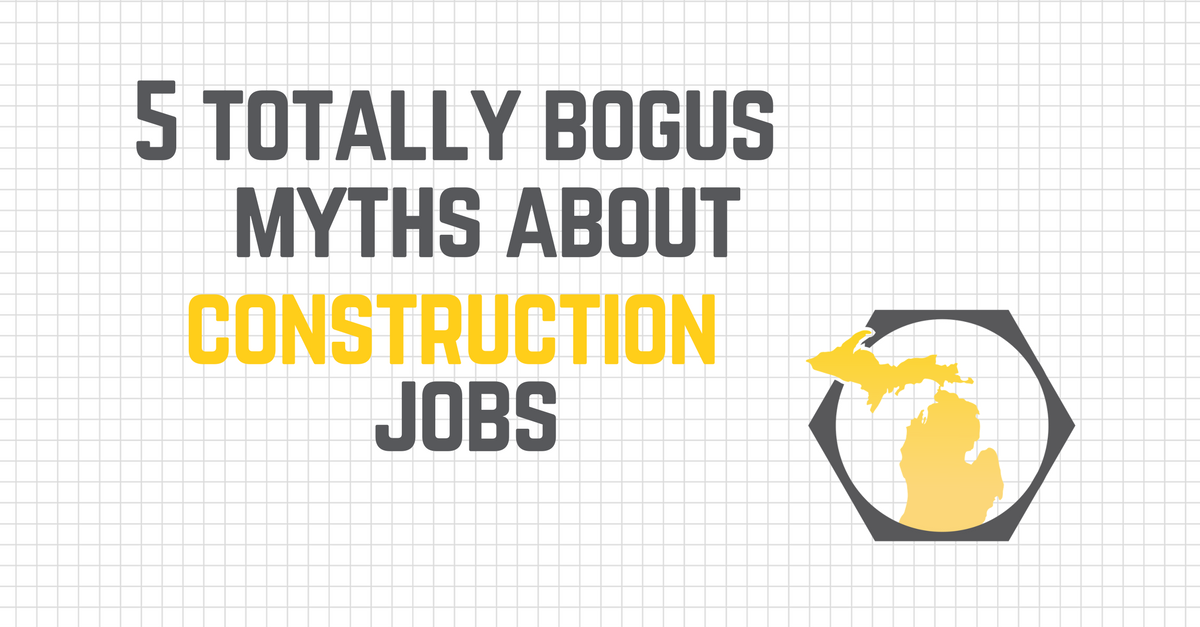 Construction is a great industry with diverse range of dedicated, skilled and highly educated workers building every minute of every day somewhere on Earth. The jobs are hard, yes they are, but they pay well and offer long-term security and plenty in the way of gratification for a job well done. So why does construction get a bad rap? We don't know but we wanted to straighten it out and present the facts so we wrote the blog, "5 Totally Bogus Myths About Construction Jobs."
Find out the truth about how smart construction workers really are, who is best suited for work in construction (and who isn't), the real facts about the dangers of construction work, whether or not there is a real demand for new construction workers, and last but not least, how much you can actually make in construction. Don't miss out on a great career because of bad intel.
Speaking of making money, did you know construction offers a lot of jobs right out of high school, pays you to work and may even train you for free? You skip the student loan payments (and interest!) and get great training from professionals with years, even decades, of hands-on experience. The BLS keeps an eye on the numbers and they say that for 2017, the median range of annual construction salaries in positions available straight out of high school range from $33,450 for construction laborers and helpers, to $42,900 for masons, $51,320 for ironworkers, $59,090 for construction and building inspectors, $62,260 for boilermakers, and$79,480 for elevator installers and repairers.
But there's far more to a career in construction than just a paycheck. It's about pride, craftsmanship, and the knowledge that you love your job (i.e., your happy at work)! Add to that, getting plenty of fresh air and exercise, and the daily challenges that define building great things and you've got an awesome career. Take a minute to read our blog, "Careers in Construction Pay More Than Just Money," and we think you'll be convinced construction has much more than money in store for you.
If you need more information, contact Michigan Construction and take control of your future today!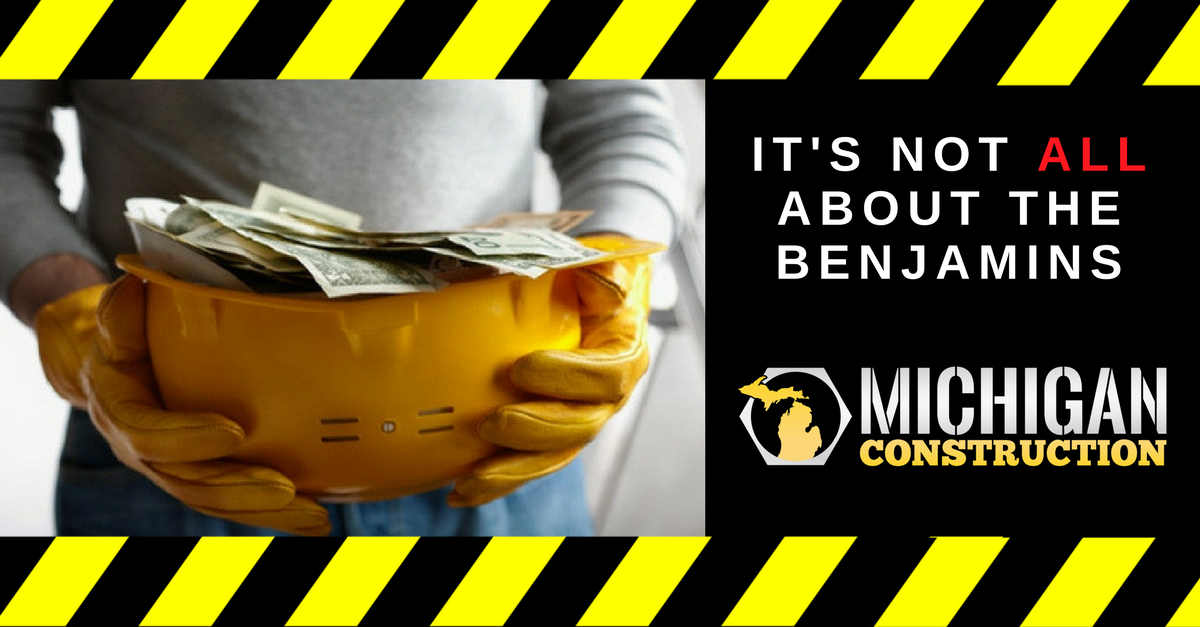 Construction Companies in Michigan — Our Partners
---
There's a lack of connectivity and unity across the construction industry and it's playing a big part in Michigan's inability to grow its construction workforce. Michigan Construction is teaming up with construction companies across the state to fix this problem. We're partnering with these construction companies to inspire people to connect with construction jobs in Michigan like never before.
Click below to learn more about each one of our Michigan Construction Partners and view what jobs our Partners have available.