Infrastructure Hiring Events
EMPLOYER INFORMATION AND
SIGN-UP PAGE
VIRTUAL INFRASTRUCTURE HIRING FAIR!!
Building Michigan's Roads, Bridges & Underground
The Infrastructure & Heavy Highway Construction Industry is hosting multiple hiring events this March. These events will be for Infrastructure Employers who are looking to hire for the upcoming construction season.

All Companies who deal in the Infrastructure & Heavy Highway Industry are welcome! (Roads, Bridges, Underground, Road Maintenance, Engineering & Testing, Mining, Materials Suppliers, Service Providers, etc.)
Infrastructure Construction Companies across Michigan are encouraged to participate as we are expecting to bring in hundreds of job seekers to these events through an extensive marketing campaign.
We have divided the state into 4 regions (CENTRAL, NORTHERN, SOUTHEAST/METRO, & WEST) and we will be hosting 4 Webinar Sessions. Please see the map below to see where your company should be included and select the appropriate boxes on the registration form.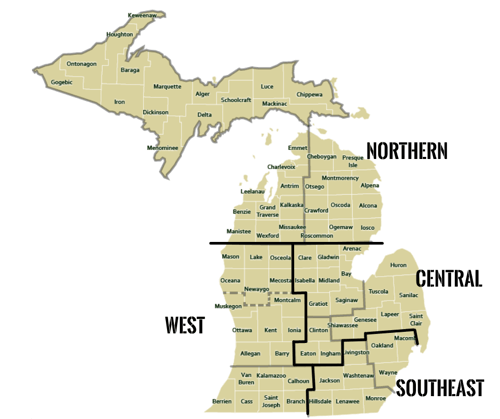 FOR THE WEBINAR
Employers will be required to either attend the video call in real time or send us a 3-5 minute video talking about your company. Please include basic information about your company, what kind of work do you do, do you train, the types of careers you offer, benefits, ways to apply, and anything else you would like a potential employee to know!
Please fill out the form & select the webinar sessions that your company would like to attend and the regions that you would like resumes from. We will send out all of the resumes to the registered email following the events.
The cost of attending is $500 per event. Or $1000 for 2 or more events.
100% of the fees will go towards the paid marketing for the events.
(An invoice will be provided from MITA using the information in your form)
Hiring Event WEBINAR SESSIONS
MARCH 23RD - 10am to 12pm
CENTRAL REGION

MARCH 23RD - 1pm to 3pm
NORTHERN REGION
MARCH 24TH - 10am to 12pm
SOUTHEAST/METRO REGION
MARCH 24TH - 1pm to 3pm
WEST REGION