FREE Infrastructure Hiring Events:
Attendee Information
Must Be 18 Years and Older
INFRASTUCTURE VIRTUAL HIRING FAIR!
LET US BRING THE EMPLOYERS TO YOU!
Building Michigan's Roads, Bridges & Underground
The entire infrastructure and heavy highway industry are coming together to host virtual hiring events across Michigan! These events will host dozens of employers that are ready to HIRE NOW for their upcoming projects. These events are for anyone and everyone who wants to be a part of building and rebuilding the infrastructure of our great state!
Road, Bridges, Underground, Road Maintenance, Engineering, Inspection & Testing, Mining, Traffic Control, Material Suppliers and Service Providers in the Infrastructure/Heavy Highway Construction Industry want YOU to be a part of their team!
Here are a few things you need to know for attending the events.
Fill out the form on this page to receive the link to attend the webinar. We have requested that you upload your resume as part of the form so that we can send them to the employers immediately following the webinar. The resumes will be sorted into regions when being sent to the employers. Using the map below, please select the region or regions where you would like your resume distributed.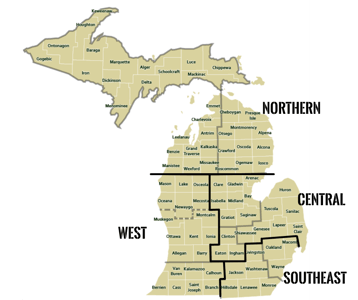 During the webinar, you will get to see all of the companies that are hiring in the region/s that you select. The companies will each have a few minutes to share about their company, positions they are hiring for, benefits, how to apply, etc. This is going to be an awesome way to see all of the amazing infrastructure companies that are currently hiring across Michigan and get immediately connected with them!
A list of employers as well as a video of the webinar will go out following the event with all of the various company application information so that you can apply for their positions!
Please fill out the form to Register to Attend today.
Hiring Event Virtual Sessions (see map above for regions)
MARCH 23, 2021 - 10:OOam to 12:00pm - CENTRAL MICHIGAN
MARCH 23, 2021 - 1:00pm to 3:00pm - NORTHERN MICHIGAN
MARCH 24, 2021 - 10:OOam to 12:00pm - SOUTHEAST MICHIGAN
MARCH 24, 2021 - 1:00pm to 3:00pm - WEST MICHIGAN
WE LOOK FORWARD TO HAVING YOU!
If you are an Infrastructure Employer, please click the button below to register your company for the event.