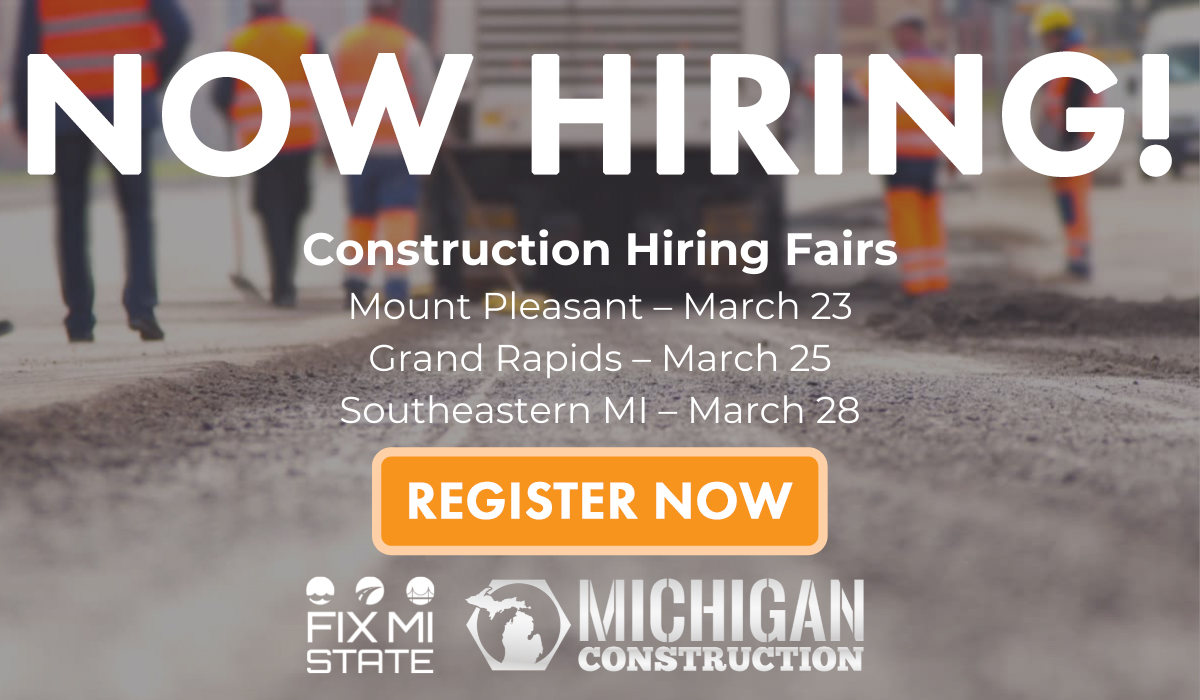 INFRASTRUCTURE CONSTRUCTION HIRING FAIRS

Building Michigan's Roads, Bridges & Underground
The entire infrastructure and heavy highway industry is coming together to host 3 face-to-face hiring events across Michigan! These events will host dozens of employers that are ready to HIRE NOW for their upcoming projects. These events are for anyone and everyone who wants to be a part of building and rebuilding the infrastructure of our great state!
Road, Bridges, Underground, Road Maintenance, Engineering, Inspection & Testing, Mining, Traffic Control, Material Suppliers, and Service Providers in the Infrastructure/Heavy Highway Construction Industry want YOU to be a part of their team!
EVENT LOCATIONS:
Mt. Pleasant
Wednesday, March 23, 2022
9a-12p at the Soaring Eagle Casino
6800 Soaring Eagle Blvd, Mt. Pleasant, MI 48858
Grand Rapids
Friday, March 25th, 2022
9a-12p at the Tassell MTEC (GRCC)
622 Godfrey Ave SW, Grand Rapids, MI 49503
Southeastern Michigan
Monday, March 28, 2022
9a-12p at Huntington Place (Cobo Hall) Detroit - Room 310A
1 Washington Boulevard, Detroit, MI 48226
Here are a few things tips for attending the events.
Fill out the form on this page to register for the Infrastructure Hiring Fair and speak directly with Michigan construction companies looking to hire energetic and motivated people.
Bring Copies of your resume to leave with employers!
During the fair, you will get to meet all of the companies that are hiring in the various regions. This is going to be an awesome way to meet and speak directly to all of the amazing infrastructure companies that are currently hiring across Michigan and get immediately connected with them!
Please fill out the form if you would like to be a part of the Infrastructure, Road and Bridge Construction Industry

~

Must Be 18 Years and Older ~

Choose a career with an exciting and dynamic company!
JOIN OUR INDUSTRY TODAY!!